49th Humbug (Served Honorary 1 day) 6017/ 2012
October 3, 2012
Christopher Moran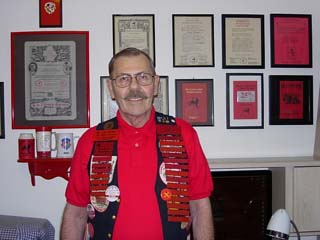 Phillip Holdaway / Gone to the Golden Hills
Received Air Medal, Purple Heart and Distinguished Flying Cross for service in Viet Nam.
He graduated from Cal State University San Bernardino, employed at Caltrans.
He became a Clamper with the Billy Holcomb Chapter in October 1986, and wrote the 20th, 25th and 35th Anniversary Plaque Books.
1st ECV Chapter to have a Plaque Book. Initiated a Plaque with U.S. Navy craft, the USS Portsmouth, SSN 707, a Los Angeles Class Fast Attack Submarine.
Phil was appointed 1st Billy Holcomb ClampArchivist 1988 to 2010 and added names for 18 years to the L. Burr Belden Memorial, the list of deceased Holcomb members.
Life Member of the Death Valley '49ers and Distinguished Flying Cross Society. 
Phillip passed away on January 12, 2020.